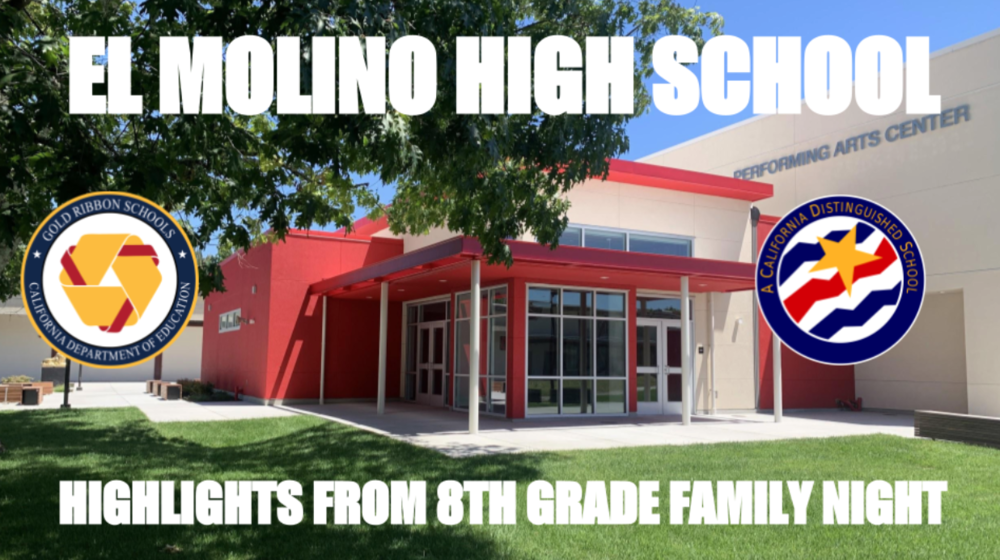 Highlights from 8th Grade Family Night
Darlene Packard
Friday, February 05, 2021
Highlights from
El Molino High School 8th Grade Family Night
February 2, 2021
To register, click here.
Take a Campus Tour with El Molino Leadership
Hear some Parent Testimonials about El Molino High School
Watch a Culinary Arts demonstration by: Chef Mei, Fiona Prather, Nicholas Zapp, and Sergio Gomez-Neri
See some Dance Performances by:
Brandon Perez: Only the Two of Us
Jeanne Broome: Losing You..
El Molino Dance Company: Clouds by Rafaella Pinetti
Click here to see the slideshow from the 8th Grade Family Night
To get a headstart on registration, use the following links for paperwork and course selection worksheets.
Incoming 9th Grade Course Selection Worksheet
La Hoja para Seleccionar los Cursos de Noveno Grado
Purchase EL MOLINO SWAG!
Do you need El Molino Swag? You can never have enough El Molino Swag!
Check out this link for EL Molino swag and support the El Molino Boosters.